Ghanaian actress and movie producer, Kafui Danku has condemned attacks on women who are in a relationship with married men.
The mother of two described the attacks on side chicks alone as unnecessary.
Following the leaked romantic conversation video of the Minister of National Security, Kan Dapaah and his side chick, Chantelle Kujewu on social media, the CEO of ABC Pictures has quizzed why the attack is always on side chicks and not the men who go for them.
Chantelle's head has been on the chopping board after her photos flooded social media.
Danku posted on her social media platforms expressing a different thought about side chicks and married men saga.
She claimed that instead of main chicks and critics abusing side chicks they should channel such attacks towards the lying husbands who vowed before God and the entire congregation that they would love and cherish their wives only.
Read her full post below.
Why is the attack always on "side chicks" but not the men who go for them…. I desperately need answers ! Everyday side chick that, side chick this …. We're tired! Can we have a more productive convo? Ok, what about your lying husband who took a vow before God and men that he would love and honour only you … why won't you attack him instead? You can't confront someone you've spent days and nights with for years but you are ready to abuse, confront and even fight someone you've not met, I guess women are the fair game abi ? Fyi, the "side chicks" are not only women these days….. (????) I need to delete myself from certain groups to keep my sanity this "tweny tweny"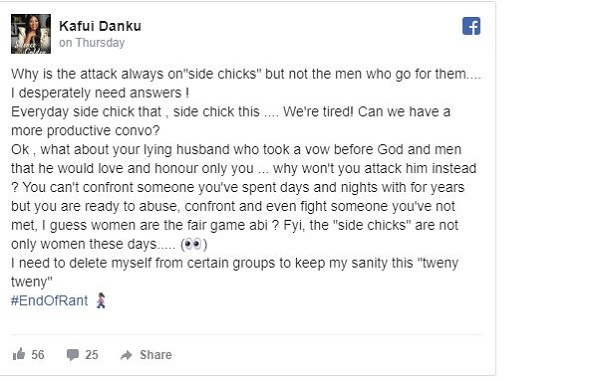 source: kasapafmonline.com