The sporting world is in mourning following the tragic and untimely death of basketball icon Kobe Bryant.
Bryant, along with his 13-year-old daughter Gianna, were among nine people killed in a helicopter crash in the city of Calabasas, California, on Sunday. The LA county sheriff confirmed there were no survivors.
The shocking news has rocked not only the basketball community but the entire world. Bryant, who was 41 at the time of his death, transcended his sport.
One of the greatest players of all time, Bryant played for the LA Lakers for his entire career (between 1996-2016) and retired as a five-time NBA champion.
In a statement, the NBA said it was "devastated by the tragic passing of Kobe Bryant and his daughter, Gianna."
It continued: "For 20 seasons, Kobe showed us what is possible when remarkable talent blends with an absolute devotion to winning."
Many big-name footballers have a keen interest in the NBA and they, like so many others, have taken to social media in recent hours to pay tribute to the sporting legend.
Cristiano Ronaldo and Lionel Messi, football's two biggest icons, both posted their tributes shortly after the worst was confirmed.
Ronaldo tweeted: "So sad to hear the heartbreaking news of the deaths of Kobe and his daughter Gianna. Kobe was a true legend and inspiration to so many. Sending my condolences to his family and friends and the families of all who lost their lives in the crash. RIP Legend ?"
While Messi wrote on Instagram: "I have no words… all my love for Kobe's family and friends. It was a pleasure to meet you and share good times together. You were a genius like few others."
Diego Maradona, another player considered by some as the greatest footballer ever, also posted on Instagram, paying tribute to Bryant before adding: "I also regret the death of his daughter and the crew of the helicopter. See you, legend."
Neymar paid his tribute after scoring for Paris Saint-Germain against Lille:
Kylian Mbappe simply tweeted: #MambaForever:
Paul Pogba wrote on Instagram: "Heroes come and go. Legends are for ever. R.i.P. Kobe and his daughter Gianna and all the victims my prayers to the families #blackmambaforever"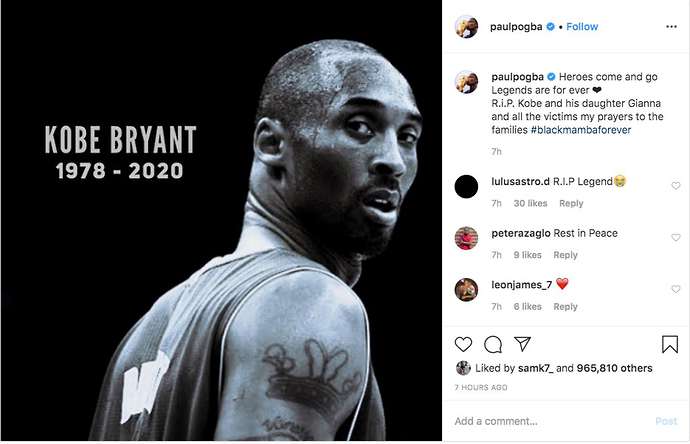 Ronaldinho tweeted: "Rest in peace, my friend ???
Luis Suarez said: "Rest in peace KOBE BRYANT and all the victims who have passed away in that tragic accident and give all my condolences to family and friends???"

Sergio Ramos wrote: "Legend. #RIPKobe ?"
Sergio Aguero posted: "Deeply saddened by the loss of #KobeBryant ? #RIP ?? #Legend"
Didier Drogba, like the rest of the world, was totally shocked: "Deeply saddened by the loss of #KobeBryant. I just can't believe it."
And Romelu Lukaku said Bryant was his biggest sports idol: "My biggest sports idol is this man right here. Your work ethic and mentality inspired me so much from as soon i understood what it took to become a pro. You were enjoying your new chapter in your life and to leave us just like that is devastating.. i love you so much! You the goat ?"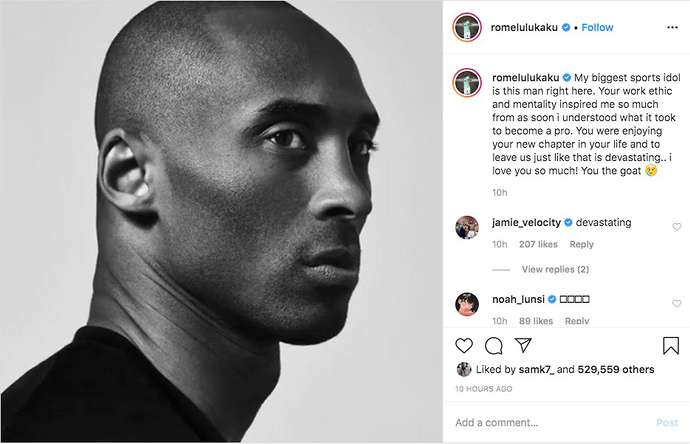 These are just a handful of the many footballers who have paid their respects to Bryant.
A host of clubs have too, including Manchester United, AC Milan and Liverpool.
source: givemesport.com