The government overshot its projected budget deficit target by 100 basis points last year after spending cuts failed to fully offset revenue shortfalls, provisional data on the execution of the 2019 budget has shown.
The deficit ended the year at 4.8 per cent of gross domestic product (GH¢16.73 billion), above a projected target of 4.7 per cent of GDP (GH¢15.72 billion), according to the data released on January 20.
The 2019 budget deficit target was originally pegged at 4.2 per cent of GDP in that year's revenue and expenditure estimation tool.
It was, however, adjusted upwards to 4.5 per cent of GDP in the Mid-Year Review Budget in July last year and later projected at 4.7 per cent of GDP in the 2020 budget.
Second time
The provisional fiscal data, which was released by the Ministry of Finance, showed further that when total revenue and grants fell short of target by about 2.9 per cent, the government responded by cutting total expenditures by about 3.7 per cent, albeit insufficient to yield the desirable projected deficit target of 4.7 per cent of GDP for the year.
This is the second year in a row that the government has missed its budget deficit target on account of spending cuts failing to fully neutralise the impact of the sluggishness in revenue inflows.
After beating its 2017 deficit target – the first since 2011 and the first such achievement by the Nana Addo Dankwa Akufo-Addo administration, the government, in 2018, overshot that year's target by a similar 100 basis points, when reduced expenditures failed to counteract a perennial shortfall in revenues.
Provisional outturns
The 2019 provisional budget estimates showed that total revenue and grants amounted to GH¢52.97 billion (15.3 per cent of GDP) compared with the projected target of GH¢54.56 billion (15.8 per cent of GDP).
According to the data, apart from import duties which exceeded target, all the other revenue lines, as well as grants from development partners underperformed relative to their projected targets.
On the other hand, total expenditures, including arrears clearance, were GH¢67.67 billion (19.6 per cent of GDP) – below the target of GH¢70.19 billion (20.3 per cent of GDP).
Apart from capital expenditure, interest payments and subsidies which exceeded their targets, the data showed that all other expenditure lines were below their budget targets.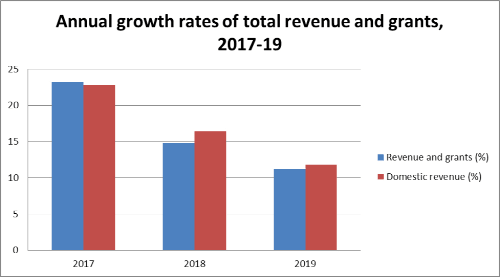 'Reasonable deviations'
When asked about their general impressions on the provisional outcomes of the 2019 budget prosecution, two economists, Prof. Peter Quartey and Dr Said Boakye, told the GRAPHIC BUSINESS on February 3 that the data showed a commitment to stay within target and post a reasonable budget deficit.
Should this posture continue into 2020, which is an election year, Prof. Quartey, who is a Professor of Economics and the Head of the Institute of Social, Statistical and Economic Research (ISSER) of the University of Ghana, and Dr Boakye, who is a Senior Researcher at the Institute for Fiscal Studies (IFS), said the country could break the fiscal overrun jinx that the economy suffered in almost all election years.
Prof. Quartey described the deviations in revenues, expenditures and the budget deficit as "marginal and reasonable".
Coming at a time when the government was on a roadshow to raise US$3 billion, the head of ISSER said it could help add impetus to the government's story to the investor community.
He, however, said he was "hoping to see more rigorous investments in capital expenditure so that we can propel more growth", adding that it was surprising to note that "the modest amount" targeted in the 2019 budget was not exceeded.
"It is very likely going to affect how much you grow and I think we should accelerate how much we spend in capital expenditure," he added.
The capital expenditure for last year was GH¢6.15 billion, above a target of GH¢6.03 billion.
He blamed the development on the weak revenue inflows, which he said often forced the country to rely on loans, on finance infrastructure investments.
Cutting spending
Dr Boakye said although it was good that the government had always cut expenditures to help accommodate revenue shortfalls, such an action was only good in the short term.
"It is good and I do not urge the government to deviate from that, but it has a long-term dampening effect on economic growth," he said.
He said with the component of the government expenditure of GDP being huge, a cut in public spending straggled growth and risked retarding the economy in the long run.
He said although the original 2019 budget projected to spend GH¢8.5 billion, it was reviewed downwards to GH¢7.7 billion in the mid-year review and later to GH¢6 billion in the 2020 budget.
Poor revenue showing
Dr Boakye added that the provisional data confirmed that the government had been "performing poorly" on revenue mobilisation.
From an annual growth of 23.2 per cent in 2017, the senior researcher at the fiscal policy think-tank said growth in total revenues and grants fell to 14.8 per cent in 2018 before hitting a record low of 11.2 per cent last year.
He said the poor showing in revenues started in 2013, when it dropped from an average of about 31.6 per cent between 2002 and 2008 but dropped to an average of 19.6 per cent between 2013 and 2016.
"Now, from 2017 to 2019, total revenue and grants are growing by 16.4 per cent," he said, explaining that the trajectory required that something drastic be done.
He stressed that the country must not aim at increasing taxes or introducing new ones in a bid to shore up revenues but must take a second look at the fiscal regime governing companies in the extractive sector.
He said unlike Ghana's neighbours, data available to him showed that the country was getting penance as its share of the natural resource deposits.
Source: graphic.com.gh