Former President Jerry John Rawlings and his wife, Nana Konadu Agyeman-Rawlings, joined hundreds at Manhyia in Kumasi last Monday to pay their last respects to the late Nana Akwasi Agyeman, an Ashanti royal.
A grand durbar hosted by Otumfuo Osei Tutu II, who sat in state with several leading Ashanti chiefs, was also attended by the Vice-President, Dr Mahamadu Bawumia, former Presidents John Agyekum Kufuor and John Dramani Mahama, as well as Ministers of State, the Chief Justice, corporate leaders and people from all walks of life.
Former President Rawlings and his wife personally commiserated with Otumfuo Osei Tutu as he sat in state and took time to also commiserate with chiefs and queen mothers present at the durbar.
Nana Akwasi Agyeman, who spent most of his political office during the tenure of former President Rawlings, was popularly known for his no-nonsense approach as the longest-serving mayor of Kumasi. He was later appointed Deputy Minister of Environment in charge of the Northern Sector.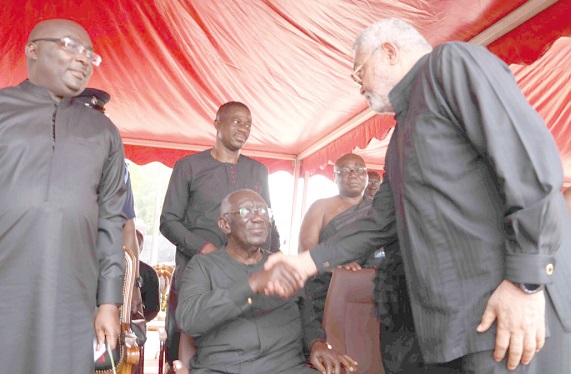 Former President Rawlings exchanging pleasantries with former President J.A. Kufuor. Looking on is Vice-President Mahamudu Bawumia
Tribute
In a tribute to Nana Akwasi Agyeman, popularly referred to as Okumkom, former President Rawlings described him as "a man who was available at the right time and at the right place. His vibrancy helped to ensure command and control. He approached the role with the zeal of a military commander at the war front.
"Discipline was key in achieving his objectives and he was not one to stay in the office and bellow out orders. He bellowed out orders all right, but out in the open, directly supervising and exhibiting an enviable hands-on approach. He enjoyed working and the tempo of the revolution sat well with his temperament," former President Rawlings said.
Nana Akwasi Agyeman, who died at the age of 86, was laid to rest on Monday night after a burial service at the St. Cyprians Anglican Church in Kumasi.
Background
The late Nana Agyeman was a member of the Oyoko Royal Family and was one of the longest-serving chief executives of the KMA.
He had a long political history dating back to 1977 during the era of the Supreme Military Council (SMC), led by the late General Ignatius Kutu Acheampong during which period he served as the Chairman of the KMA.
He subsequently served as the chief executive of the KMA under two other heads of state, Dr Hilla Limann and Flt Lt Jerry John Rawlings, to whom he became a close confidant.
He was appointed Deputy Minister of Science and Environment under the Rawlings regime and was also considered a leading contender for the Asante Stool following the death of Otumfuo Opoku Ware II in 1999.
Barima Agyeman was a brother of Otumfuo Osei Tutu.
Source: graphic.com