Die-hard Kwesi Arthur fans across social media have without hesitation jumped to the defense of the rapper who has been accused of jilting several women after sleeping with them.
The claims were made public when a Snapchat user named "Konadu Beverly", released several screenshots proving that Kwesi Arthur indeed exploited some women.
Kwesi Arthur was also said to have impregnated Social media influencer and actress Efia Odo and later asked her to quickly abort it.
But the expose which seems to have eroded the rapper's image has also bolstered support from fans who have vowed to protect their role model despite the damning testimonies.
Kwesi Arthur's fans remain largely unscathed.
"You dey come at Kwesi Arthur but you no get any better proof? Lmao borga, rest!"
"Ah but boys dey eat girls just any way anyhow isn't it normal or it's just because he's Kwesi Arthur?? Ah"
"So y de video call be the proof, abi me sef ado sum plus am, in means den he me too Adey support am financially, spiritually, economically. He chop a, he chop"
"There is nothing wrong with Kwesi Arthur eating and using plenty women He is young, rich, handsome and Famous. Aboski he no get nothing for ein pocket sef has bitches make we think," Some of them wrote on Twitter.
Read the rest of their comments below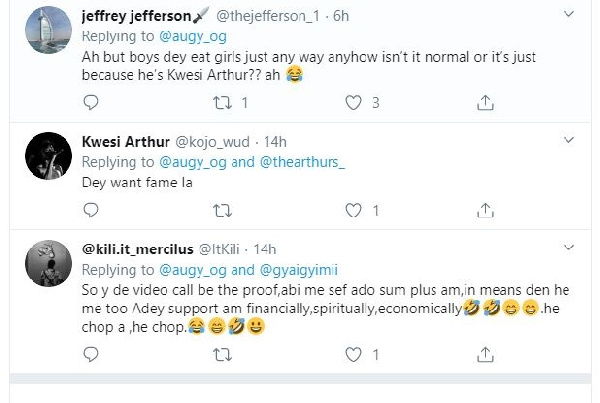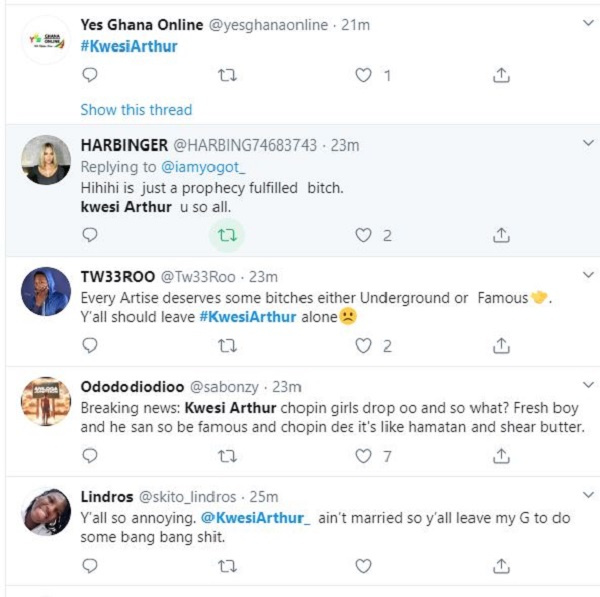 Source: ghanaweb.com