As COVID-19 continues to sweep across the world, forcibly confining practically everybody to their homes and visiting untold hunger on individuals, there is no end in sight to it's scathing effects.
In Ghana, government has voted to provide daily hot meals and dry food packages to up to 400,000 individuals who have been classified as "vulnerable" in the worst hit Greater Accra, Tema, Kasoa and the Greater Kumasi Metropolitan areas to alleviate their hunger as those parts of the country remain under a 3-week partial lockdown.
Some organisations and individuals have also taken up the challenge to relieve the poor and vulnerable by providing food, personal protective equipment (PPE) and shelter even as the number of confirmed COVID-19 cases grows in the West African country in a daily basis.
One of such benevolent persons who has risen to the occasion is Ghanaian-born English football star, (Daniel Bio Tackie Mensah Welbeck), popularly known as Danny Welbeck, who currently plays for the Watford Football Club in the English Premier League.
On Thursday, thousands of residents of Nkawiepanin in the Atwima Nwabiagya Municipality of the Ashanti regional, the maternal hometown of the Watford FC star, received food and sanitary relief to the tune of GHC 70,000 from the footballer.
The Nkawie Government Hospital also received some PPE and hand sanitizers from the former Manchester United and Arsenal FC striker.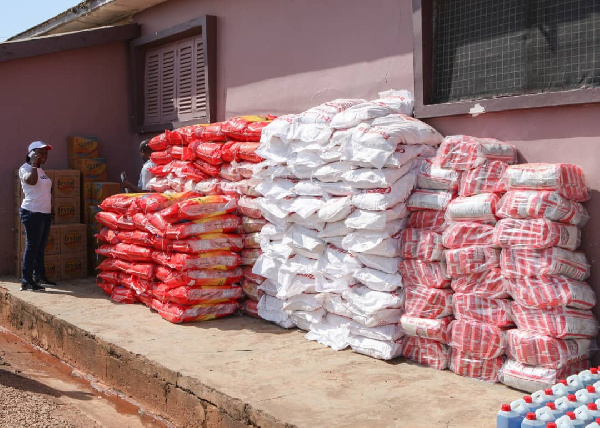 Presenting the items on behalf of footballer, his aunt, Charlotte Adwoa Tumutuom said, "Danny has been very concerned about how his people would survive these trying times; though he has never lived here, he has a great affection for the people of Ghana, so he felt it prudent to offer some help in the very small way that he can to support the government's efforts in these times".
Welbeck, who spoke with a section of the community through a video call advised them to stay at home and observe all the health protocols; he admonished them "to joins hands to fight and defeat COVID-19 together, by behaving in ways that would help stop the spread".
The Atwima Nwabiagya Municipality is one of fourteen adjunct districts of the Greater Kumasi Metropolitan Area which is currently under a partial lockdown as a mitigating measure to stop the spread of COVID-19 in the Ashanti region.
source: mynewsgh.com