The embattled CEO of defunct gold dealership entity, Menzgold, Nana Appiah Mensah who is widely known as NAM1 has reacted to claims that he is still free even after allegedly defrauding people whiles a harmless Akuapem Poloo has been convicted.
These claims were flying high in the Ghanaian media and social media space when Ghanaian video vixen, Rosemond Brown who is known as Akuapem Poloo was found guilty of nudity and was convicted accordingly.
Many people are of the view that the lady should be pardoned and the arguments of these people are based on the fact that nothing has happened to the business guru (NAM1) after allegedly absconding with people's money.
Reacting to this, he took to his official Twitter handle and wrote;
"Stop Misleading the public. Even on a foreign land i was acquitted and discharged, a decision that was affirmed by the Appeals Court and the Supreme Court. FYI: my granny wasn't the presiding judge. Back home, I pleaded NOT GUILTY and I'm having my day in Court."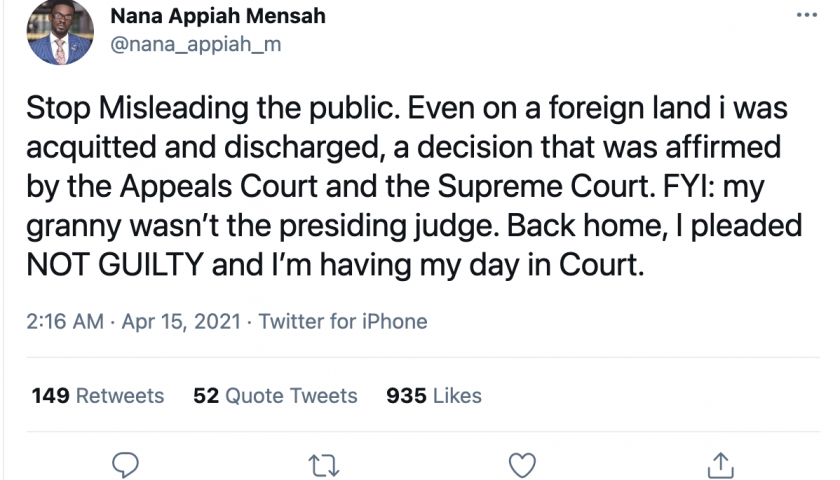 Some Ghanaians have reacted to his tweet. Read some of these reactions below;
@Nanasolusion1 – God will always fight for u Great Man of our Nation. The hate for people with good intentions in this country is what's affecting our growth as a country. But i know history will always remember you for your contribution to the development of this nation. May God keep u safeADVERTISEMENT
@NATHANBATES21 – Wasnt this guy in a Ponzi Scheme like Madoff ??Why is he free??Has he paid everyone that invested their money and trust in him ??
@andy_andyHRP – In that foreign land u did not run a scheme that gave 10 – 12% interest, are the two comparable?But hey, even the directors and managers of defunct financial institutions are walking free after costing the tax payer Gh20b. Urs, gvt warned ppl, dey signed at their own risk!
@kobypieterson1 – Remember old age is in two folds, u either age by ur good deeds n enjoy the blessings or you age and feel the pain you caused others. Remember in Tarkwa lot of people hv died becos of Menzgold! Now think of Gh as a whole! If judgment day is real paaa, ……
@abednego_Shawn – The problem with Nam1 is he's shielding the people who put him in this shit. Surely they've also assured him they will protect him from any legal issues. That issue is big and as usual it involves big men in this country
source: ghgossip.com