There have been suggestions for the region to be illuminated to increase security and create a community watchdog group to help curb crime in Ayigya Zango in the Oforikrom municipality of the Ashanti Region.
Security issues have arisen due to some areas of the community lacking street lighting.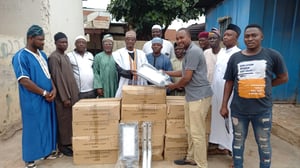 Small-time crimes have been reported by locals in dark locations.
The Kwame Nkrumah University of Science and Technology gave the Ayigya Zango communities 50 LED lighting as part of its social obligations to the catchment communities.
The involvement comes in response to the local assemblyman's request to the university administration.
"This timely assistance will increase security while illuminating the area's shadowy nooks. Since no community has zero crime, we aim to reduce corruption to the absolute minimum. We appreciate the assistance from KNUST administration, said Issaka Ali Sambo, an assemblyman from Ayigya Zango.
Alhaji Mohammed Bashir, the Sarkin Zango for the neighborhood, hoped that restoring the lamps would increase security.
Since no one wants to be seen committing crimes, crime thrives in dimly lit locations, hence illuminating the entire region will undoubtedly minimize it. We appreciate the area's assemblyman and the KNUST vice chancellor for this.
Source: 3News.com