Nigeria's once-powerful central bank chief has been charged with illegally owning a shotgun and hundreds of cartridges, marking a spectacular fall for a man who has long been at the centre of the nation's politics and finances.
Godwin Emefiele appeared in court on Tuesday, six weeks after he was arrested by the country's feared secret police, officially known as the Department of State Services (DSS).
Mr Emefiele, currently suspended as the governor of the Central Bank of Nigeria (CBN), denied the charges and was granted bail. He was not charged with any economic crimes.
Then in dramatic scenes outside the court, secret police officers beat up prison officials who were preparing to take the banker into custody until his bail was settled.
The DSS managed to whisk away the 61-year-old bank boss – who again finds himself under arrest.
He was suspended not long after Bola Tinubu used the address at his May inauguration as president to criticise a key policy spearheaded by Mr Emefiele – the unsuccessful attempt to redesign the currency, the naira.
It had been an apparent attempt to prevent vote-buying during February's tightly contested presidential election won by Mr Tinubu, the ruling party candidate and a Lagos billionaire.
Mr Emefiele looked a shadow of the man that controlled the finances of Nigeria – Africa's largest economy – when he arrived at court in Lagos.
He clutched a huge red Bible in one arm and was dragged by the other arm into the courtroom by the court registrar.
Inside, he was placed in a dock wedged between a scrum of lawyers and a shelf stacked with thousands of court files that had been left to gather dust.
Even before his arrest – in the months between Mr Tinubu's election victory and inauguration – it was clear the bank governor was in trouble.
He cut a beleaguered figure with slumped shoulders, desperately pleading his case each time he was seen at the presidential villa during the handover period.
But the charges of illegally possessing a single-barrel gun and 123 rounds of cartridges have come as a surprise.
Many citizens, local vigilantes and hunters illegally own such firearms in Nigeria and are rarely arrested.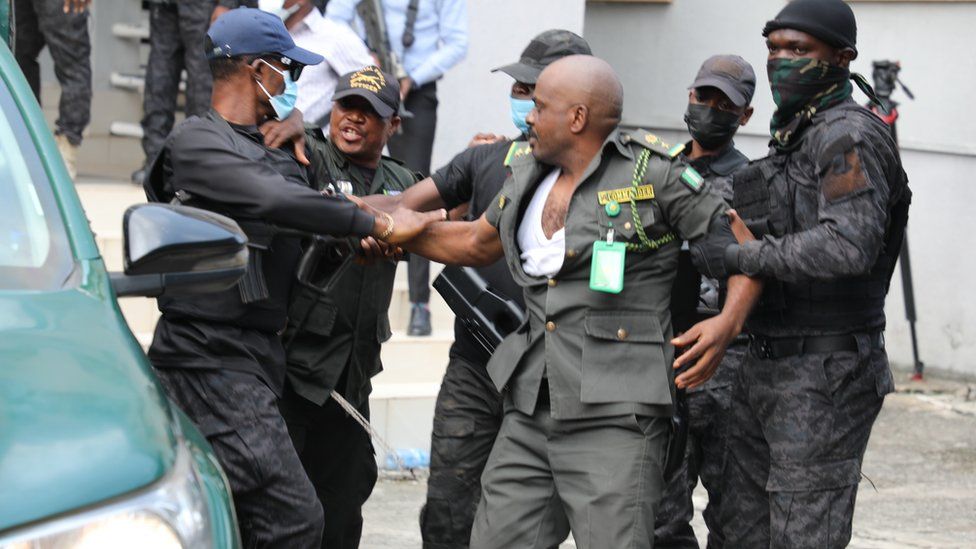 Nonetheless Mr Emefiele is likely to have few sympathisers during his legal battles. Many consider him an integral figure in the government of former President Muhammadu Buhari that oversaw eight years of economic turmoil marked by two recessions, inflation rocketing to an 18-year high, a sharp currency devaluation, soaring unemployment and ballooning debts.
Though he does have his loyal supporters, some of whom last year raised an eyewatering 100m naira (£195,000; $242,000 – using 2022 rates) so that he could enter the race to be nominated as the ruling party's presidential candidate.
Mr Emefiele rejected the nomination, but then did go to court to seek an interpretation of the bank's rules forbidding the governor and his deputies from engaging in "vocations", widely seen as including politics.
"It was a very naïve thing to do," a senior manager at the central bank told the BBC.
Mr Emefiele later withdrew the case.
While his family's roots are in Agbor in the southern state of Delta, Mr Emefiele was born in Lagos where he completed his primary and secondary education before moving to the University of Nigeria in Enugu to study banking and finance.
After graduating, he had two stints teaching finance and insurance at the University of Nigeria and the University of Port Harcourt respectively, before a career of more than 18 years in banking – including as CEO of Nigeria's Zenith Bank.
He was appointed as central bank governor in 2014 by then-President Goodluck Jonathan, with Mr Buhari reappointing him in 2019, despite the economy nosediving under his tenure.
Twice, as the naira wobbled under his watch, Mr Emefiele came up with unconventional methods to stem the slide.
In 2015, on his orders trees in central parts of the capital, Abuja, were chopped down to discourage black market currency traders from operating under their shade, and in 2021 he forced the owner of a popular website to stop posting the exchange rates of foreign currencies.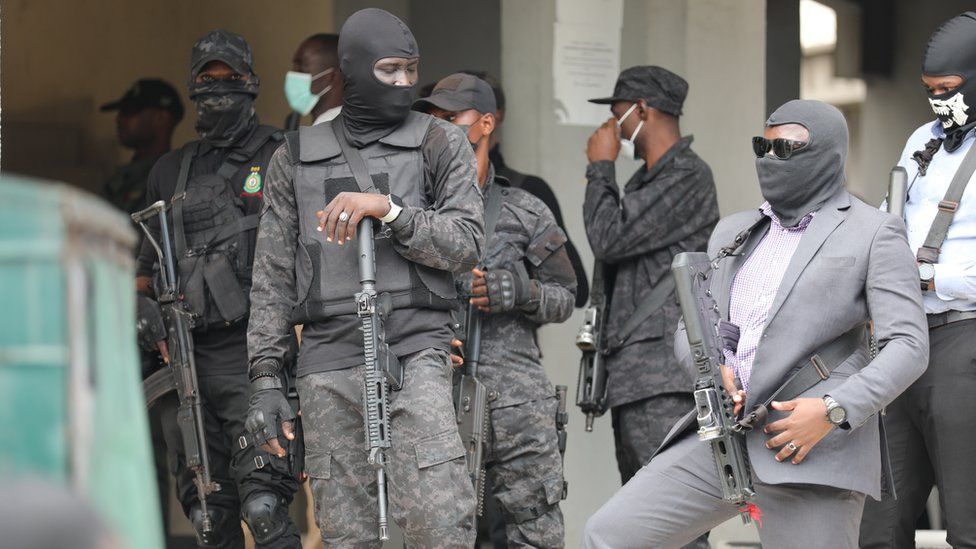 Yet in Mr Emefiele, Mr Buhari found an ally to oversee some of his heavily criticised economic policies.
The most controversial being the redesign of the currency in the build-up to the tightest presidential election since the return of democracy in 1999.
The central bank argued that it was best practice for notes to be changed every five to eight years to stop counterfeiters, and with an update last done in 2014, the time had come for a redesign.
But others saw it as a move by Mr Buhari and the governor to end what Nigerians call "moneybag politics" – where politicians can spend years stockpiling cash that is largely used to induce voters on election day.
The redesign failed as some banks allegedly connived with politicians by sending them the new notes, leading to a nationwide scarcity that caused widespread chaos as people slept outside banks and cash machines to get access to their money.
Once Mr Tinubu confounded his critics by winning the election, Mr Emefiele's future at the bank became uncertain.
Many feel the case against the bank boss provides a good distraction for the new government, already drawing fire itself over the economy.
Mr Tinubu has taken some highly controversial decisions, including devaluing the naira and ending a decades-long fuel subsidy, causing prices to soar and worsening the cost-of-living crisis.
And if the past is anything to go by, the case is likely to be a long-drawn out affair with plenty of drama that will eventually fizzle out without much resolution.
Source: MyJoyOnline