The UEFA Champions League draw took place Friday at the UEFA Headquarters in Nyon, Switzerland and it served classic matches to look forward to, as usual, in the quarter-finals.
Chelsea could face Barcelona or Napoli should they pull a surprise comeback against Bayern Munich and Cristiano Ronaldo could come up against his former club Real Madrid should Juventus defeat Lyon, a game football lovers have all been hoping for.
The last 16 games will be played on Friday, August 7-8.
From the results, Chelsea trail Bayern Munich 0-3 from the first leg at Stamford Bridge, Napoli were held 1-1 at home by Barcelona and French side Olympique Lyon had a 1-0 win advantage over Juventus.
Real Madrid were beaten 2-1 at home by Manchester City.
Serie A side Atalanta, Paris Saint Germain, Atletico Madrid and Leipzig are the only teams who have already booked a place in the quarter finals of the League.
Matches in the quarter-finals will be played between Wednesday, August 12 and Saturday, August 15.
Both the quarter finals and semi-finals will be played over a single-leg.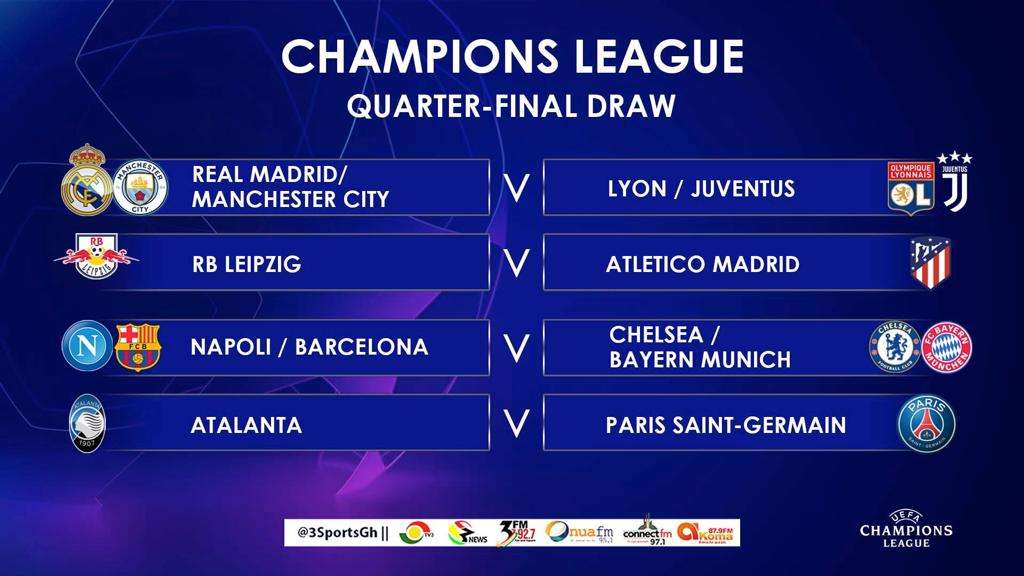 All semi-final games will take place on Tuesday, August 18 and Wednesday, August 19.
The semi-final draw in full:
Real Madrid/Manchester City/Lyon/Juventus V Napoli/Barcelona/Chelsea/Bayern Munich
RB Leipzig/Atletico Madrid V Atalanta/Paris Saint-Germain
The final of the Champions League will be played in Lisbon on Sunday, August 23.
Source; 3news.com