Ghanaian musician, Charles Nii Armah Mensah who is known as Shatta Wale has suggested that he has always been chastised for having a bad character, however, most of the people who have chastised him are doing worst.
According to him, these people have been listed in Abena Korkor's books adding that they are RAPISTS.
The musician made this known in a recent post he made on his verified social media handle on the popular social media platform, Facebook.
The post reads;
"So called industry deh chop abena korkor 1 by 1 and dem say me my lifestyle no good dem no like my character 

Time will sure tell oneday la !
Industry Rapist !!!"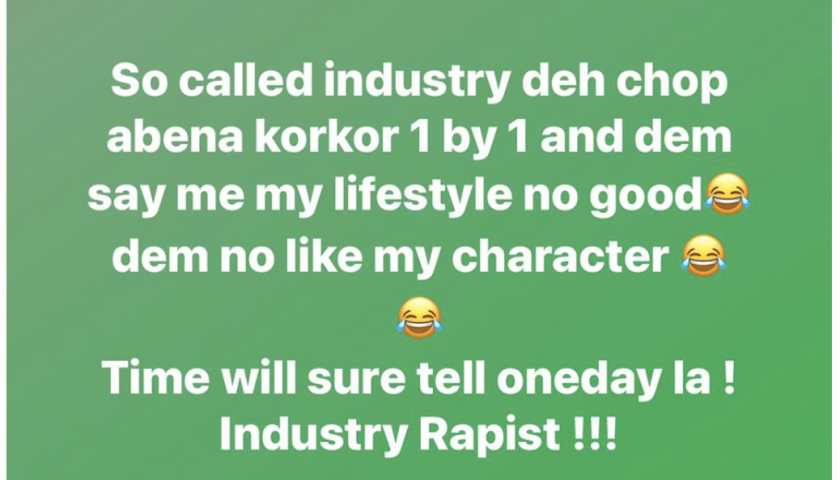 Some comments the post got are;
Obaapa Ruki – She's not the only one oo Nii. Others have gone through worse but they don't have the platform or heart to come out and say it. It's a tough one for some women in Gh. Because of "survival", aaywɛ amɛ free
Sewu Vincentia – Ein bi lyk u too ur eye dey inside ooo, the lady she dey bee waaa rough la
Alfred Xy-army – Kw3 Nii 4 Lyf is 4 lyf But e do ah what dey Control your mind self ? You sef you dey get mad polar sometimes
Abubakar Husein – May all married and cheating husbands meet their Abena korkor sooner than expected la….. The roll call continuous unabated. Obi ne y3m.
Erykah M. A Eshun – Please keep Abena out of your fight. She's gone through enough already make you no come add your own.
De Love Mends – U do am
Make u tlk your mind give them
I like d way your talk give Arnold yestee nor, bcos say u come he wan do like say he talk better for your back
Baye Under – As for shatta di3 unless we love u like that same times u dey post unecessary things too much still 4lyf is 4lyf
Olu Makazy – I don't hate ppl or judge ppl with der talks,some ppl normally talk to relief stress and I think what shatta says is just for fun not for real, but Ghana ankasa I don't understand some of the big guys they make it look like sex for grate. I mean no insult but pls let's change, let the industry be real so does up coming talent artist to go join the great life of music..
Kwasi Kumi – 1DON do wild and chop some, that girl be falaaa
Jaidy Derby – No one raped her ! Stop Nii just stop it right there don't misinform some of your fans who don't take time to confirm news ..
Ranz Mills – U are fighting a lost battle. Not everyone will sing praise songs on u so know that and stop forcing everyone to agree with u on almost everything u say and do.
How can u win everyone to go along with u? impossible.
Alex Tetteh – Abi your boy??? Forget everybody…… You just be my guy….. Before them go realize then you dey spoil there across the globe
source: ghgossip.cpm