Popular Kumawood Actor, Kwadwo Nkansah Lil Win has shocked his fans after they saw their superstar buying 'Gob3' that is Gari and beans in broad daylight.
However, the president of the Weezy empire blamed it on Ghana's current state when he was captured in the queue waiting his turn to buy get grab his own share of the most celebrated gob3 in his hood.
Kwadwo definitely is a fan of the meal "Gob3" that has saved many lives in Ghana especially in our tertiary institutions; spoke in the Akan language in a video gone viral that the hardship forced him to come out to buy the food.
According to him, it was a matter of life and death so he had to swallow his celebrity status and come buy the food.
Fans expect you to behave like a superhuman with everything at your disposal because they see you on TV or hear your voice on the Radio.
'Gob3' as a delicacy, it is street knowledge that, it's meal is for broke or poor people and celebrities are not supposed to eat.
Well, it will interest you to know that the meal is a well-balanced diet with enough proteins and is good for all class of people.
He also filmed himself enjoying his meal happily. Watch the video below.
See some reactions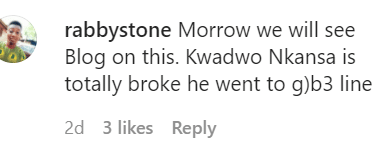 source: ghmediahub.com