Germany and Bayern Munich defender, Jerome Boateng has admitted that he felt a lot of pressure when he played against his brother Kevin-Prince Boateng at the 2010 FIFA World Cup.
The two players who are of Ghanaian descent were born in Berlin where they grew up and joined the academy team of local club Hertha Berlin.
Having come through the ranks to eventually become top stars in the game, they chose different paths when it came to choosing a country they would want to play for at the senior level.
KP Boateng who is the elders of the two players opted to play for the Black Stars of Ghana while Jerome Boateng committed to playing for Germany.
At the Group stage of the 2010 World Cup in South Africa, they faced each other when Germany played against Ghana.
Reflecting on that match, Jerome Boateng has admitted that he felt a lot of nerves
"There was a lot of pressure on both of us, including the family. I was super nervous.
"It was a lot of pressure on both of us and on our family even because I think it was really bad from the media and the whole thing against you, then (they) put pressure on me because of the story before", Jerome Boateng revealed during an Instagram live video with his brother.
He continued, "The misunderstandings between us and the fight, of course that happens with brothers but we played for two different countries, and everyone was on his own and in the game I was super nervous.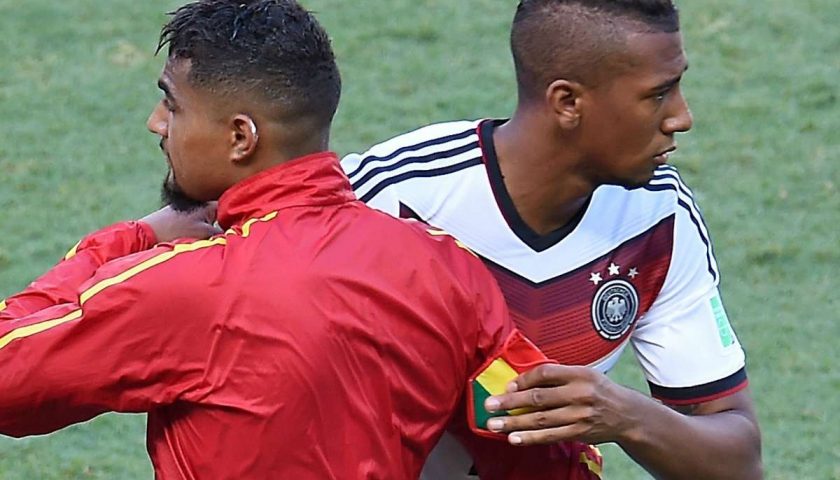 "Our parents were watching…were super proud and was a super important game for both of us so I was also super nervous.
"So I slept for 2-3 hours and I was just praying that we win the game and that I play a normal game, don't make a mistake or anything, it was really one of the most highest pressures on me and on us for a game".
The match eventually ended 1-0 at the end of the 90 minutes with Jerome Boateng having the last laugh.
source: footballghana.com