According to the Ghana Armed Forces (GAF), their operation in Ashaiman to track down the murderers of a military soldier received approval from their top headquarters.
The GAF said in a statement to the media on the operation that the main goal of the raid was to locate the criminals responsible for the crime rather than to harm innocent bystanders.
In its statement, GAF made it clear that the military action, which the Military High Command had authorized, was not intended to seek revenge for the soldier's murder but rather to find those responsible for the horrible crime.
According to the Ghana Armed Forces' statement, after the operations in Ashaiman-Taifa and Tulaku, military forces picked up around 184 suspects, ranging in age from 21 to 47, and turned them over to the Military Police.
The military leadership said that the people arrested will subsequently be sent to the Ghana Police Service for screening and further action in a statement signed by Brigadier General E. Aggrey-Quarshie, Director of General Public Affairs of the Ghana Armed Forces.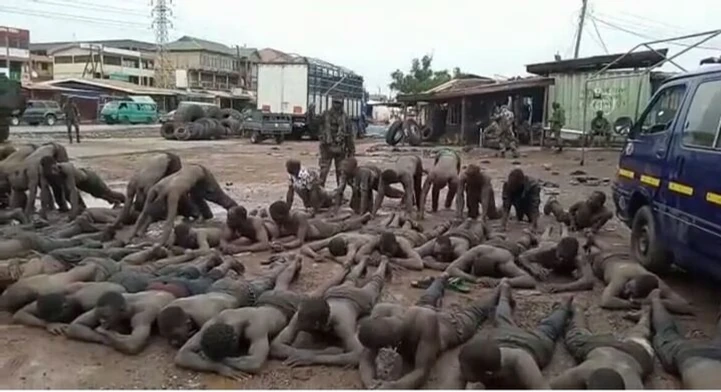 The staff "seized 29 slabs and 57 small slabs of suspected Indian hemp and amnesia among various forms of the drugs during the sweep."
As stated in their statement, "The Ghana Armed Forces (GAF) also wishes to place on record that the raid was not targeted at innocent citizens but rather was an intelligence-led operation undertaken on suspected criminal hideouts and crime-prone regions in the local vicinity.
Nonetheless, GAF accepts that regretfully some innocent people could have been caught up in the operation and subsequently felt some discomfort as a result of where they were at the time.
GAF further encouraged locals to help security agents discover the truth by giving them useful information.
When a young military officer, Trooper Imoro Sherrif, was reportedly stabbed in the town on Saturday, soldiers unleashed mayhem on some Ashaiman citizens on Tuesday while helicopters flew over the region.
Source: Pulse Ghana