WhatsApp has finally introduced a highly anticipated feature: message editing. Mark Zuckerberg announced in a Facebook post that users now have the ability to edit a message within 15 minutes of sending it. To edit a message, simply press and hold on the message, then select the edit option to make changes.
When a message is edited, it will be marked with an "edited" tag next to the timestamp, but the app does not keep a history of previous versions of edited messages, and other users won't be able to see the original content.
In a blog post, the company expressed excitement about giving users more control over their chats, allowing them to correct misspellings or provide additional context to a message. To edit a message within 15 minutes of sending it, tap and hold on the message, then select the "Edit" option from the menu.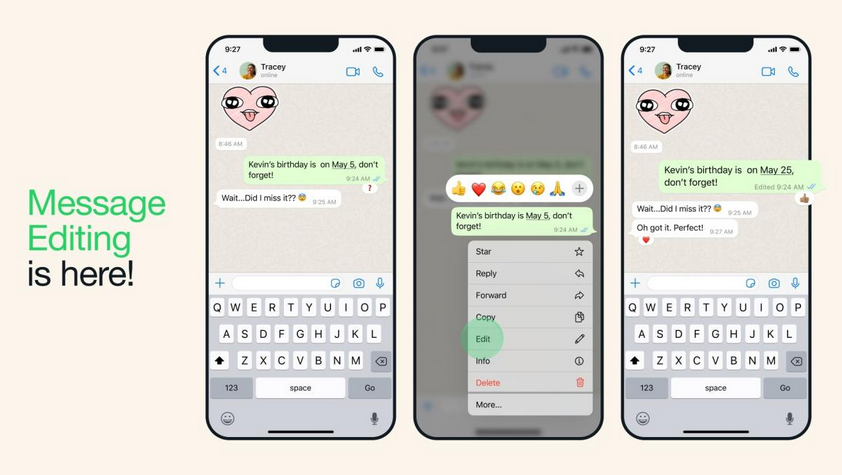 Previously, WhatsApp users had to either delete a message entirely or send a separate correction message. Last year, the app extended the time limit to delete a message from 48 hours to 60 hours.
While WhatsApp's editing feature has a shorter time limit compared to some competitors like Telegram, which allows editing within a 48-hour window, it is still an improvement over the previous options.
The ability to edit messages will be beneficial for quickly correcting typos without confusing recipients or generating unnecessary notifications. Deleting a message leaves a grayed-out note indicating that the message was deleted, which can cause confusion. With the new editing feature, mistakes can be rectified promptly.
Meta, the parent company of WhatsApp, has started rolling out the editing feature to users, and it is expected to be available to everyone in the coming weeks.
Source: AdomOnline