It's a beef between two comedians and it's not funny with salvos being unleashed in bigger folds on various social media platforms.
Comedian Funny Face is undoubtedly unhappy with colleague Kwadwo Nkansah Lilwin after the latter vehemently expressed discontent with organisers of the Ghana Movie Awards for adjudging the former Favorite Actor in the 2019 edition of the scheme.
"Does Funny Face deserve a favourite actor? Do you know why his career has gone down the drain?" he asked while stressing is it unfathomable for Funny Face to have won instead of him (Lilwin) or Akrobeto.
Taking to his Instagram page to respond to the remarks, Funny Face hurled insults at Lilwin. He suggested that Lilwin's constant criticism of his victory is an indication the Kumasi-based actor hates him to the core.
"You're so envious of everybody, you wish everything in this world is yours. People like you end up miserable in life. You're in so much pain," Funny Face jabbed.
"You have fought everyone around you. Now you wanna bring it on Funny Face. Don't bring your evil eyes and deed on me. How long have you been in this industry? Fool! Your own evil plans will kill you," he slammed further.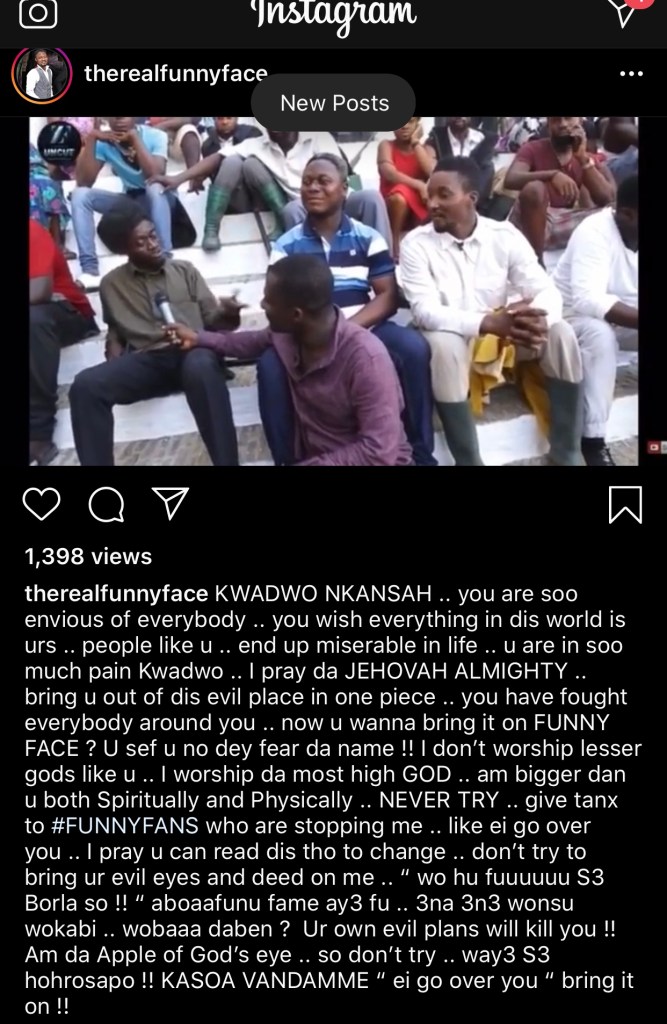 Meanwhile, Funny Face has deleted the post after some persons advised him to.
Source: ghanaweb.com