Two Toyota Hiace buses belonging to 2M Express company Limited collided head-on at the Birimso near Bunso stretch of the Accra to Kumasi highway, resulting in the instant death of nine passengers, with nineteen others seriously injured and admitted to the hospital.
The accident occurred around 4:30 am on Sunday morning, March 26, 2023. The buses, which had a total of 28 passengers aboard, were reportedly speeding. The bus from Accra suddenly veered off to the lane of the oncoming bus from Kumasi, resulting in the head-on collision at the Birimso stretch of the highway.
A trailer truck carting a container had been involved in a crash, and the container was on the shoulder of the road.
Drivers and residents nearby rushed to the scene to support rescue efforts. Kwame Dan, a driver who went to the scene, expressed concern over how 2M Express Buses excessively speed on the road. According to the Bunso Station Officer of Ghana National Fire Service, ADO II Samuel Doe, they dispatched a rescue team to the scene immediately after receiving a distress call about the crash at around 4:30 am.
He said victims trapped in the car were extricated and sent to Kibi Government Hospital and Hawa Memorial Saviour Hospital in Kyebi and Osiem, respectively. ADO II confirmed that nine passengers died on the spot while other victims were seriously injured. He described the impact of the crash as devastating, with one of the vehicles mangled to the size of a taxi.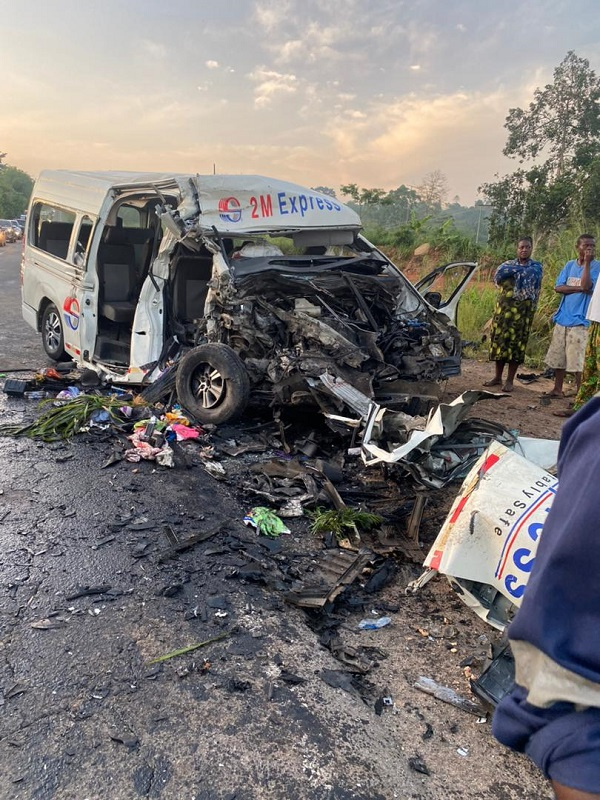 There were claims that the Toyota Hiace Bus from Kumasi might have swerved the fallen container causing the collision. However, ADO II disputed these claims, stating that the trailer carrying the container had an accident at the scene, but the container was not in the middle of the road.
He observed that the car that was coming from Kumasi was in its lane correctly, while the one coming from Accra diverted to the Kumasi lane. Thus, he concluded that the accident was not caused by the trailer.
The latest accident brings the total number of road fatalities recorded within 24 hours in the region during the weekend to 18. Eight passengers aboard a commercial Hyundai vehicle with registration Number GB 4644-20 from Juapong heading to Accra died when the vehicle collided head-on with a long heavy-duty track with registration GT 6473-21.
Similarly, a Toyota Corolla Car with registration number GE 4157-23 driven by an engineer with Electricity Company of Ghana knocked down a pedestrian, Grace Adu, 60, to death at Nyamebekyere on Koforidua to Adukrom road.
Source: KasapaFmOnline